March 15, 2013
: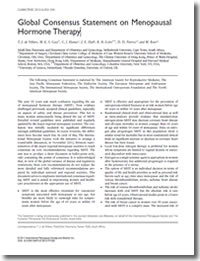 International Menopause Society - Media release
An international meeting of organisations working in menopause and women's health has concluded Menopausal Hormone Therapy (MHT, sometimes called HRT) is the most effective treatment for symptoms of the menopause, and that benefits are likely to outweigh any risks for women going through the menopause. However it advises women to only take MHT after discussing her individual health circumstances with her doctor. This advice will be simultaneously published in the peer-reviewed journals Climacteric and Maturitas on 15th March, 2013.
The consensus meeting, which took place in Paris in November last year, brought together the major international and regional menopause societies, as well as other international organisations active in women's health (including endocrinology, reproduction, and osteoporosis), to produce a simple, understandable summary of the state of the science on MHT use.
The key conclusions are:
MHT is the most effective treatment for symptoms related to the hormonal changes of menopause, such as hot flushes and sleep deprivation. MHT is also beneficial for bone health and may decrease mortality and cardiovascular disease
Risks associated with MHT are acknowledged, but benefits derived from MHT will generally outweigh the risks for women under 60, or within 10 years of the menopause. The risks are generally small.
Taking MHT is a decision which needs to be individualised, according to a women's symptoms, and her individual health status (such as age, time since menopause, family history, general health, has she had a hysterectomy or not, and other personal risk factors). This decision should be taken in consultation with a suitably qualified physician.
The President of the International Menopause Society, Tobie de Villiers (Cape Town, South Africa, This email address is being protected from spambots. You need JavaScript enabled to view it.) said:
"This is an important statement, because it shows that there is really pretty broad multi-disciplinary agreement on how MHT should be used, and what the risks and benefits are. The organisations which attended the meeting represent a very broad view of women's health, and so we believe that these core recommendations represent as good a summary of the state-of-the-science as you can get.
Of course there are some uncertainties, and there are also regional differences in how the menopause is experienced and in how MHT is used. But the main message which comes out of this meeting is that the decision to use MHT comes down to an individual woman, in consultation with her doctor. Used properly, MHT will give significantly more benefits than harm".
The full statement is given in the PDF.
----ENDS----

International Menopause Society - Media release 15 March 2013190.4 KB

Global Consensus Statement on Menopausal Hormone Therapy42.31 KB