COMMA (Core Outcome Set for Menopausal Symptoms) is inviting clinicians, researchers and women who have experienced menopause around the world to provide input on what symptoms should be measured in trials of treatments for menopausal symptoms. Clinical trials for menopausal symptoms have measured a wide range of different outcomes, making it difficult to compare treatments and limiting the relevance of these studies for clinical practice. COMMA will standardise this process by developing a "Core Outcome Set" of measures for future clinical trials.
Please complete this short survey to tell us what menopausal symptoms you believe are most important. These responses will be used to develop a new Core Outcome Set reflecting the views of clinicians and consumers. Please also circulate the survey amongst your networks
COMMA is funded by the University of Melbourne and supported by menopause societies internationally and the leading journals in menopause.
The survey takes about 10 minutes and all those who complete the survey will be included in a draw for a $200 Westfield voucher.
The survey is now closed.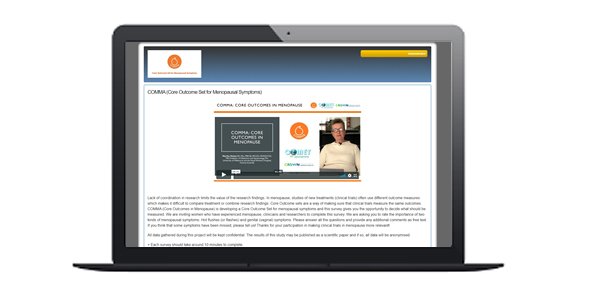 Originally published May 2019
Content updated January 2021