The product Happy Hormones is a listed medicine with the Therapeutics Goods Administration (TGA) but it's effectiveness has not been assessed in clinical trials. The AMS supports clinical research to determine the safety and efficacy of all products used in the treatment of menopausal symptoms.
A Phase II randomised double-blind, placebo-controlled clinical trial evaluating the efficacy of Happy Hormones in menopausal women

Study description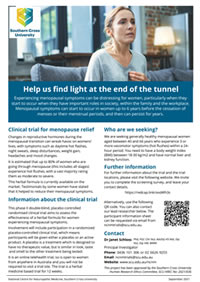 This phase II double-blind, placebo controlled randomised clinical trial aims to assess the effectiveness of a herbal formula for women experiencing menopausal symptoms. Involvement will include participation in a randomized placebo-controlled clinical trial, which means participants will receive either a placebo or an active product for 12 weeks. A placebo is a treatment which is designed to have no therapeutic value, but is similar in look, taste and smell to the other treatment being tested. It is an online telehealth trial, so is open to women from anywhere in Australia and you will not be required to visit a trial site. Participants are required to fill out questionnaires online or via post every 4 weeks, and keep a daily log of their well-being, in addition they are required to visit a pathology lab at the beginning and end of the study for getting their blood tested for liver and kidney function.

NCNM Clinical Trial Flyer Happy Hormones1.81 MB
Inclusion criteria
We are seeking generally healthy menopausal women aged between 40 and 66 years who experience three or more vasomotor symptoms (hot flushes) within a 24-hour period. Participants need to have a body weight index (BMI) between 18-30 kg/m2 (will be extended to 35 kg/m2) and have normal liver and kidney function. Women who take hormone therapy, or hormone replacement therapy cannot be considered.
Ethics approval
Southern Cross University HREC No: 2021/036

HH HREC Application Approval Notification 2021-4-19129.95 KB
Study location
Australia-wide
More Information about the trial: https://redcap.link/ood4lh3s
Principal investigator
Dr Janet Schloss
Phone: 0436 101 306 or 02 6626 9255
Email: This email address is being protected from spambots. You need JavaScript enabled to view it.
Website: www.scu.edu.au/ncnm
Content created December 2021