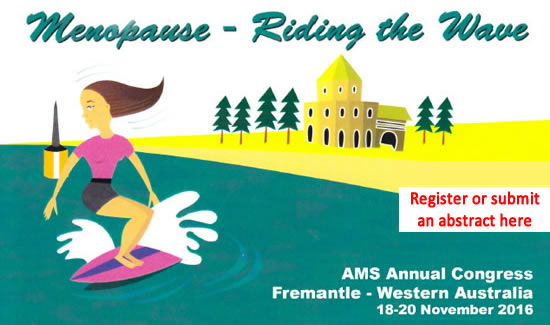 Australian Menopause Society 20th Congress
Join us in November 2016 for our 20th AMS Congress.
In 2016 our Congress will be at the Esplanade Hotel in Fremantle, right in the heart of the art and cafe culture of the historic port city and close by to beaches, the Swan river and Rottnest Island.
Pick up the latest on bones – how to assess fracture risk, what to use, what to avoid, when to start, when to stop, skin conditions of ageing, plastic surgery, useful tools for your practice. Discuss difficult cases, and learn all the latest from the literature and the clinical trials. Meet with friends and colleagues and exchange ideas.
More information at AMS Congress 2016...
---
Past Congress Presentations
Congress presentations from past years are available to AMS Members when logged in.
One of the most popular AMS Congress sessions is the annual Clinical Trial Update, presented by Dr Sonia Davison, MBBS FRACP PhD from the Women's Health Research Program at the School of Public Health and Preventive Medicine at Monash University, is available publicly.
Content updated December 2015