Water Mischel 326pp. Little, Brown and Company New York. Sept 2014.
Book review by Dr Sylvia Rosevear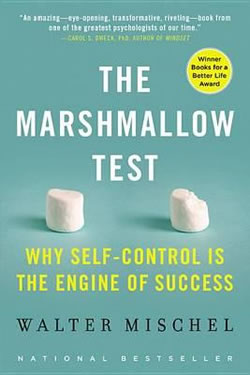 This is an interesting and informative book, not least by what it raises for clinicians engaged with patient's emotional lability. I cannot comment on the psychological validity but will provide a summary of the message Walter Mischel imparts and why it was interesting.
Self–control or its opposite – temptation, may be anachronistic terms in the modern world. This book examines the psychological evidence for self–control and its advantages versus succumbing to temptation – the path of least resistance that is closely associated with cravings, frustration, failure, sabotage, jeopardy or addiction. Michel claims self– control can be learned – making will power less effortful and increasingly automatic and every day. It describes the experiments which have identified the skills that enable the individual to escape from stimulus control and achieve self– control, thereby providing real choice, instead of being pushed by the immediate impulses and pressures of the moment.
Mischel identifies the 'hot' system which gives us the emotions and zest that make life worth living and allows automatic judgements and decisions that work well some of the time. The 'cool system' gives humans the ability to behave intelligently, with imagination, empathy, foresight and wisdom. This book claims that the ability to think in constructive, alternative ways can change the impact of stimuli and life events on what we feel, think and do. This ability provides the potential for being purposeful agents of our actions, for taking charge, for exerting control and for influencing how life plays out.