This popular series continues in Brisbane in association with the 43rd ASPOG Scientific Meeting. The workshop is aimed at all GPs, specialists and allied health workers who are seeking a comprehensive update in the field of menopause.
Topics
Drs Georgina Hale and Jane Elliott will be presenting on the following:
Menopause and how to approach it
How to prescribe MHT
Non-hormonal treatments for menopausal symptoms, and sexual dysfunction
Case studies
Venue
Park Regis North Quay, Brisbane
Registration
$50 for AMS Members, $75 for Non‐members
hhttps://meetingpeople.eventsair.com/aspog-2017/meuregonly/Site/Register
Dr Michael McClung NAMS Board Member and Founding Director of the Oregon Osteoporosis Center in Portland, Oregon, discusses the right timing for drug holidays from bisphosphonates for women at low risk and as well as follow-up procedures. He discusses those who should not consider a drug holiday.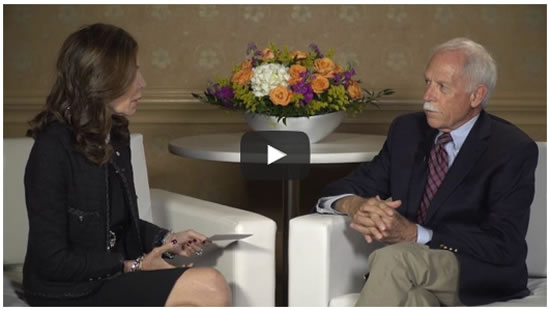 There is a version aimed at women available as well at Bone Drug Holidays.
See all the NAMS Videos here...

A research project is being conducted by RMIT University, the Monash Centre for Health Research and Implementation (Monash University) and other partners.
They are interested in the experiences of women (in Victoria) with early or premature menopause. They would like to interview women to understand what it is like to be diagnosed with early or premature menopause, what the symptoms are like, what their experiences with health professionals have been like, how early or premature menopause has impacted on their health and general wellbeing, their relationships and fertility, and anything else they would like to share about their experience.
Based on information gathered from women with early or premature menopause, the researchers will produce a Healthtalk Australia (healthtalkaustralia.org) website detailing women's experiences, and providing downloadable resources to support women with early / premature menopause, including in relation to talking with their health professionals.
There is also a health professional component involving in depth interviews of those who are involved in the care of women who have experience of early or premature menopause (EM/PM), including spontaneous EM/PM, or EM/PM due to medical treatment (medically-induced) including breast cancer, ovarian cancer or uterine cancer, surgical removal of ovaries, or chemotherapy for non-cancer cause.
For more information and contact details go to
www.menopause.org.au/for-women/studies-recruiting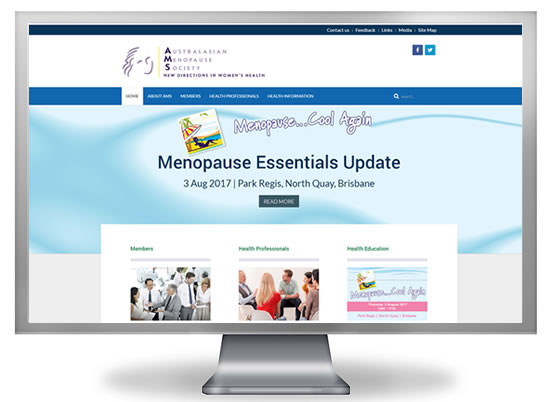 The new AMS website will be launched on Friday 7 April 2017. The new platform suits all devices from large desk top computers, through Pads/Tablets and Smart Phones.
The content rich AMS site has been reorganised to make it easier for you to navigate important resources that assist you in keeping up to date with current practice and better manage your patients.
In addition to the popular Information Sheets, we have added a Health Information area which will contain Fact Sheets, videos and resources for your patients. The "Find an AMS Doctor" service has also been redesigned so that patients will be able to locate your practice via a map.
Due to feedback, you will have the option to use your existing member number login OR use your nominated email address to login. This will assist you to remember your login details and reset passwords more efficiently.
We hope you find the new website fresh and user-friendly and we appreciate your patience during the transition period. Please note that some links may have changed on the new website. If you have any trouble locating resources, please feel free to contact AMS at ams@menopause.org.au
Join AMS for Member's only content
See exclusive commentary on studies such as:
Langer's insights on the WHI study
Dr Amos Pines urges everyone carefully to read Robert Langer's article in the April issue of Climacteric [1]. Langer was one of the chief investigators of the WHI project, both clinician and epidemiologist, who was able to bring not only his unbiased view on the clinical data, but also some important anecdotes related to behind-the-scene administrative issues.
Dr Pines sets out the nine main points he found most significant, as quoted from the article..
New information technologies in medical practice
New information technologies have entered medical practice. The role of the internet has frequently been investigated regarding advantages and disadvantages. In August, Medscape surveyed 1423 health-care providers, including 847 physicians, and 1103 patients to assess their attitudes toward new emerging technologies in medicine [1]. Johannes Bitzer sets out the most important results of this survey.
Cognitive aging in midlife women: is it real?
Cognitive aging has become an important issue because of increased life expectancy in women. Cognitive complaints are common during midlife, as part of the climacteric syndrome. By using data from a longitudinal observational study in 2124 participants from the Study of Women's Health Across the Nation, Karlamangla and colleagues [1] attempted to demonstrate that cognitive aging is present in midlife women, irrespective of menopausal transition and its associated symptoms. Moreover, their study design tried to avoid the so-called practice effects deriving from the ability to learn from repeat testing in younger women. Average age at baseline (third cognition testing visit) was 54 years and the majority of the women were postmenopausal, with half the cohort being 2 or more years beyond the final menstrual period.