New Consumer Information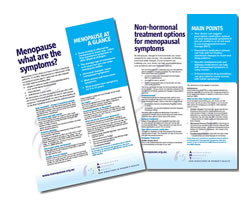 The AMS website is often the first port of call for patients.
With this in mind we have decided to create a set of fact sheets for patients, as companion sheets to the popular videos, and the other more detailed AMS Information Sheets.
These single page sheets are avaiable for online viewing or as a print-friendly PDF.
The first two fact sheets are:
Menopause what are the symptoms?
Non-hormonal treatment options for menopausal symptoms

AMS Guide to Equivalent MHT/HRT Doses
This popular AMS Infomation Sheet is now available in two versions. There is an Australian only version and a New Zealand only version.
AMS Guide to Equivalent MHT/HRT Doses Australia only
AMS Guide to Equivalent MHT/HRT Doses New Zealand only
Everything you have ever wanted to know about menopause...
Professor Rod Baber, Professor of Obstetrics and Gynaecology and former President of the Australasian Menopause Society was interviewed by 2UE Breakfast Show personalities John & Garry in February.
If you would like to listen to the conversation titles "Everything you have ever wanted to know about menopause..." see AMS in the media.

Menopause Essentials Update
This popular series continues in Brisbane in association with the 43rd ASPOG Scientific Meeting. The workshop is aimed at all GPs, specialists and allied health workers who are seeking a comprehensive update in the field of menopause.
Drs Georgina Hale and Jane Elliott will be presenting on the following:
Menopause and how to approach it
How to prescribe MHT
Non-hormonal treatments for menopausal symptoms, and sexual dysfunction
Case studies
Venue
Park Regis North Quay, Brisbane
Registration
$50 for AMS Members, $75 for Non­‐members
https://meetingpeople.eventsair.com/aspog-2017/meuregonly

Perimenopausal and Postmenopausal Bleeding
Past President of NAMS, Professor of Obstetrics and Gynecology at New York University School of Medicine, and Co-Director of the Bone Densitometry and Body Composition unit at the NYU Langone Medical Center, Dr Steven Goldstein discusses vaginal ultrasound for postmenopause bleeding and when clinicians should refer women for ultrasound.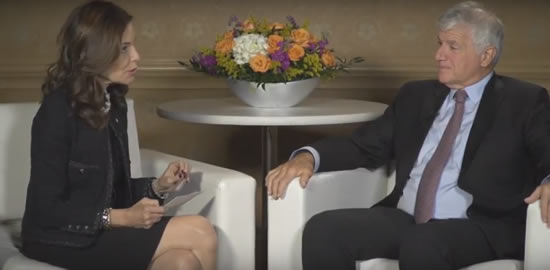 There is a version aimed at women available as well.
Go to Perimenopausal and Postmenopausal Bleeding.
See all the NAMS Videos here...

Upcoming Conferences
11th Congress of the European Menopause and Andropause Society (EMAS)
Amsterdam, Holland
22-24 May 2017
www.emas-online.org/home2017
25th World Congress on Controversies in Obstetrics, Gynecology & Infertility (COGI)
Vienna, Austria
November 30 - December 2, 2017
www.cogi-congress.org

Join AMS for Member's only content
See exclusive commentary on studies such as:
Vasomotor symptoms due to natural menopause; systematic review and network meta-analysis (NMA) of treatment effects from the NICE Menopause Guideline
The objectives of this meta-analysis were to identify which treatments are most clinically effective for the relief of VMS for non-hysterectomized women in natural menopause. Included were randomized trials (RCTs) of treatments for women with a uterus for the outcomes of frequency of VMS (up to 26 weeks), vaginal bleeding and discontinuation, altogether 47 RCTs of 16 treatment classes...

NAMS Practice Pearl: Caring for the Lesbian Patient at Midlife and Beyond
Lesbian women often delay seeking healthcare - in part because of fear of discrimination by their healthcare practitioners. This Practice Pearl offers suggestions on how best to create this welcoming environment, from the look of the office and waiting rooms to the intake forms that ask about sexual orientation...
Better be divorced?
Marital status seems to have a major impact on health. Traditionally, stability in intimate relations has positive effects on health and quality of life parameters, especially in old age. This assumption even translates into smaller insurance costs of married versus divorced persons. But recent data from the WHI observational study now challenges this accepted belief...

Sleep duration and health
A friend has just told me that sleep is a waste of time, because every minute being awake does count and should be used to enjoy life. Well, I guess he was wrong, since sleep is mandatory not only for relaxation, but also for the initiation of many active neuro-physiological processes which are vital. Extreme and prolonged deprivation of sleep may even eventually lead to death. The duration of sleep seems an important factor in maintaining optimal health. Although there is probably no gender difference in the impact of sleep duration, herein are some clinical data related to women and menopause...