Information on early menopause: is the internet the place to search?
This study found the Australasia Menopause Society website was highly rated for content and quality of information on early menopause.
However overall study indicated the need for higher-quality internet resources for women seeking early menopause information.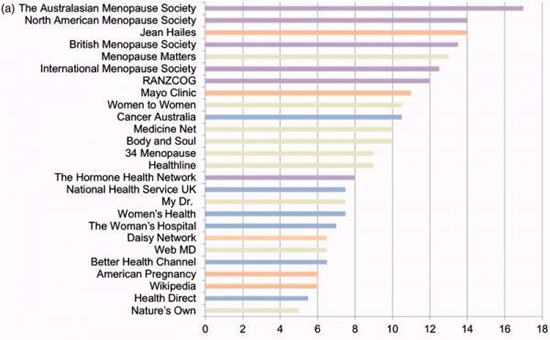 Figure 2 (Part only). Information content of early menopause websites. (a) Information content scores of individual websites (maximum score 20); (b) information content scores per topic (maximum score 52). Websites are color-coded according to website category: Commercial (green), Not-for-profit (brown), Medical society (purple) and Government (blue).
For more see here.

Combined Menopausal Hormone Therapy (MHT) - updated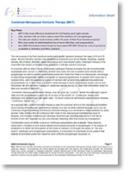 This sheet has been updated to include information relating to the selective oestrogen receptor modulator (SERM) called bazedoxefine.
It has been combined with conjugated equine oestrogens in what is referred to as a tissue selective oestrogen complex (TSEC) with the trade name Duavive™.
It is used to prevent osteoporosis and treat menopausal symptoms without the need for a progestogen in women with an intact uterus and at least 12 months since last menses.

Menopause Essentials Update
This popular series continues in Brisbane in association with the 43rd ASPOG Scientific Meeting. The workshop is aimed at all GPs, specialists and allied health workers who are seeking a comprehensive update in the field of menopause.
Drs Georgina Hale and Jane Elliott will be presenting on the following:
Menopause and how to approach it
How to prescribe MHT
Non-hormonal treatments for menopausal symptoms, and sexual dysfunction
Case studies
Venue
Park Regis North Quay, Brisbane
Registration
$50 for AMS Members, $75 for Non­‐members
https://meetingpeople.eventsair.com/aspog-2017/meuregonly

21st AMS Congress 2017

The members of your local organising committee are delighted to invite you to attend the 21st Congress of the Australasian Menopause Society.
This year's congress will be held at the Sofitel Sydney Wentworth from Friday 13th to Sunday 15th of October. It promises to be a ripper!
Registration
Registration for AMS 2017 is now open. For more information, please visit the conference website www.ams2017.org/registration.
Program
The preliminary program is available online, please click here www.ams2017.org/program to view.
Abstracts
Abstract submissions are now open, please click here www.ams2017.org/abstracts to submit and view abstract guidelines.
Scholarships
The AMS will fund four (4) scholarships for medical students, doctors in training or PhD candidates to attend the 21st AMS Congress in Sydney. Preference will be given to applicants who submit an abstract to present at the Congress. Please click here www.ams2017.org/scholarships for details and application form.

We look forward to seeing you at the Congress in October.

Kind regards,

Sheila O'Neill
For The 2017 Organising Committee

Join AMS for Member's only content
See exclusive commentary on studies such as:
HRT and cardiovascular disease
Cardiovascular disease is the leading cause of morbidity and mortality in postmenopausal women [1]. Hormone replacement therapy (HRT) has been shown to reduce future risk of cardiovascular disease when taken within 10 years of the menopause. Avoiding HRT in menopausal women can actually be detrimental to their health. Some experts are now recommending that HRT should be considered as part of a general prevention strategy for women at the onset of the menopause [2]. However, some doctors and nurses feel very apprehensive about this as they are confused about the association of HRT with cardiovascular disease (CVD).
The negative publicity regarding the misinterpretation in the media of the Women's Health Initiative (WHI) study has led to many women and health-care professionals still being concerned and anxious about the potential risks of HRT [3], in particular regarding HRT and cardiovascular disease (CVD). A large proportion of doctors are still informing women that HRT is associated with a greater risk of CVD and are refusing to prescribe HRT for women who would actually benefit from taking it. Many women with hypertension are still being told to stop taking their HRT. This misperception is resulting in large numbers of women needlessly enduring menopause symptoms and also increasing their future risk of osteoporosis, cardiovascular disease and diabetes by not taking HRT.
The benefits and risks of HRT vary by dosage, regimen, and timing of initiation...
Hormone therapy for women aged 65 years and older
Past President of NAMS, an internist, endocrinologist, and reproductive endocrinologist at the University of California, San Diego. Dr Stuenkel discusses the safety and risk for hormone therapy in women aged 65 years and older.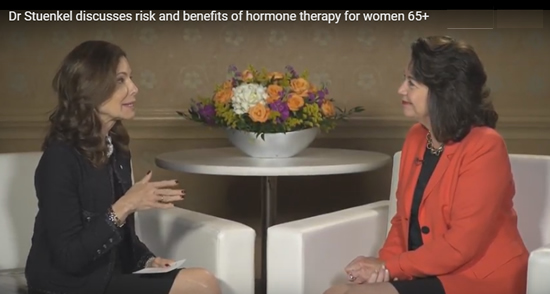 Upcoming Conference
25th World Congress on Controversies in Obstetrics, Gynecology & Infertility (COGI)
Vienna, Austria
November 30 - December 2, 2017
www.cogi-congress.org