NAMS 2017 position statement updates guidelines for hormone therapy use
A new position statement on the use of hormone therapy (HT) for menopausal and postmenopausal women from The North American Menopause Society (NAMS) has been published online today in the Society's journal, Menopause. "The use of hormone therapy continues to be one of the most controversial and debated topics," says Dr. JoAnn V. Pinkerton, NAMS executive director. "The goal of this updated version of the Society's position statement is to provide excellent, evidence-based, current clinical recommendations to menopause practitioners for the improvement of care for women depending on them to help relieve menopause symptoms." The statement also reviews the effects of HT on various health conditions, such as cardiovascular disease and breast cancer, at different stages of a woman's life.
What's new in the 2017 position statement? The statement expands on and solidifies NAMS's previous position on several critical areas of confusion regarding HT:
The risks of HT differ for different women, depending on type, dose, duration of use, route of administration, timing of initiation, and whether a progestogen is needed. Treatment should be individualized using the best available evidence to maximize benefits and minimize risks, with periodic reevaluation for the benefits and risks of HT continuation.
For women aged younger than 60 years or who are within 10 years of menopause onset and have no contraindications, the benefit-risk ratio appears favorable for treatment of bothersome hot flashes and for those at elevated risk of bone loss or fracture. Longer duration may be more favorable for estrogen-alone therapy than for estrogen-progestogen therapy, based on the Women's Health Initiative randomized, controlled trials.
For women who initiate HT more than 10 or 20 years from menopause onset or when aged 60 years or older, the benefit-risk ratio appears less favorable than for younger women because of greater absolute risks of coronary heart disease, stroke, venous thromboembolism, and dementia.
Hormone therapy does not need to be routinely discontinued in women aged older than 60 or 65 years and can be considered for continuation beyond age 65 years for persistent hot flashes, quality-of-life issues, or prevention of osteoporosis after appropriate evaluation and counseling of benefits and risks.
Vaginal estrogen (and systemic if required) or other nonestrogen therapies may be used at any age for prevention or treatment of the genitourinary syndrome of menopause.

Use of Plant-Based Therapies and Menopausal Symptoms: A Systematic Review and Meta-analysis
With between 40% and 50% of women in Western countries using complementary therapies to manage menopausal symptoms, this study is worth another look.
The 2016 review of 62 studies suggests that some plant-based therapies are associated with modest reductions in the frequency of hot flushes and vaginal dryness but no significant reduction in night sweats.
The study concluded that this meta-analysis of clinical trials suggests that composite and specific phytoestrogen supplementations were associated with modest reductions in the frequency of hot flashes and vaginal dryness but no significant reduction in night sweats. However, because of general suboptimal quality and the heterogeneous nature of the current evidence, further rigorous studies are needed to determine the association of plant-based and natural therapies with menopausal health.

Early Menopause due to Chemotherapy and Radiotherapy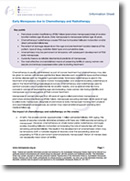 This sheet has been updated to include information relating to radiotherapy.
Chemotherapy is usually administered as part of cancer treatment but may also be given to women with severe connective tissue disorders such as systemic lupus erythematosus or kidney disease such as Wegener's granulomatosis.
Total body radiotherapy is used in the treatment of lymphoma and bone marrow transplantation and abdominal pelvic radiotherapy is used in the treatment of gynaecological cancer.
Chemotherapy and radiotherapy used to combat cancers carry a substantial risk for ovarian toxicity, and as survival rates for many cancers in women of reproductive age are increasing, more women are facing infertility and menopause as a consequence of their cancer treatment.

Menopause Essentials Update
This popular series continues in Brisbane in association with the 43rd ASPOG Scientific Meeting. The workshop is aimed at all GPs, specialists and allied health workers who are seeking a comprehensive update in the field of menopause.
Drs Georgina Hale and Jane Elliott will be presenting on the following:
Menopause and how to approach it
How to prescribe MHT
Non-hormonal treatments for menopausal symptoms, and sexual dysfunction
Case studies
Venue
Park Regis North Quay, Brisbane
Registration
$50 for AMS Members, $75 for Non­‐members
https://meetingpeople.eventsair.com/aspog-2017/meuregonly

21st AMS Congress 2017

The members of your local organising committee are delighted to invite you to attend the 21st Congress of the Australasian Menopause Society.
This year's congress will be held at the Sofitel Sydney Wentworth from Friday 13th to Sunday 15th of October. It promises to be a ripper!
Registration
Registration for AMS 2017 is now open. For more information, please visit the conference website www.ams2017.org/registration.
Program
The preliminary program is available online, please click here www.ams2017.org/program to view.
Abstracts
Abstract submissions are now open, please click here www.ams2017.org/abstracts to submit and view abstract guidelines.
Scholarships
The AMS will fund four (4) scholarships for medical students, doctors in training or PhD candidates to attend the 21st AMS Congress in Sydney. Preference will be given to applicants who submit an abstract to present at the Congress. Please click here www.ams2017.org/scholarships for details and application form.

We look forward to seeing you at the Congress in October.

Kind regards,

Sheila O'Neill
For The 2017 Organising Committee

Join AMS for Member's only content
See exclusive commentary on studies such as:
Management of aromatase inhibitor-associated bone loss in postmenopausal women
Several guidelines have been reported for bone-directed treatment in women with early breast cancer for averting fractures, particularly during aromatase inhibitor (AI) therapy. A systematic literature review identified both several fracture-related risk factors as well as recent advances in the management of aromatase inhibitor-associated bone loss (AIBL). Although the FRAX algorithm includes fracture risk factors in addition to bone mineral density (BMD), it does not seem to adequately address the effects of AIBL. Several antiresorptive agents can prevent and treat AIBL. However, concerns regarding compliance and long-term safety remain. Overall, the evidence for fracture prevention is strongest for denosumab 60 mg s.c. every 6 months. Additionally, recent studies as well as an individual patient data meta-analysis of all available randomized trial data support additional anticancer benefits from adjuvant bisphosphonate treatment in postmenopausal women, with a 34% relative risk reduction in bone metastasis and 17% relative risk decrease in breast cancer mortality that needs to be taken into account when advising on management of AIBL...
Breast density, breast cancer risk, and hormone therapy
The radiographic appearance of the breast on mammography varies among women. Fat appears dark on a mammogram, whereas connective and epithelial tissues are radiologically dense and appear white. This is the basis for determining the mammographic density, and the relative percentage of dense versus lucent breast areas (percent mammographic density, PMD). It has been well established that parameters of breast density correlate with breast cancer risk, with a four- to six-fold-fold gradient in risk between women with 75% or more PMD compared with those with 10% or less [1]...
A new look at hormone therapy and dementia
Mikkola and colleagues examined the association between use of hormone therapy (HT) and death from Alzheimer's disease (AD) or vascular dementia (VaD) in a sample of 489,105 Finnish women who had documented use of systemic HT on a nationwide drug reimbursement register [1]. A nationwide Finnish death register indicated that 1057 of those women died of AD and 581 died of VaD. Findings revealed that, compared to population averages, women who used HT for at least 5 years had a 15–19% reduced risk of death from AD, and use of HT for any period of time was associated with a 37–39% reduced risk of death from VaD. No reduction in AD was observed among women who used HT for less than 5 years, nor did age at initiation (< 60 years versus > 60 years) influence risk of AD or VaD...
Hormone Therapy and Cognition
Past President of NAMS, Professor of Psychiatry and Psychology, Director of Women's Mental Health Research, and Research Director at UIC Center for Research in Women and Gender at the University of Illinois at Chicago
Professor Maki discusses the hormone therapy timing hypothesis and cognition, the relationship between cognition and cardiovascular protection, and the latest cognition trials and studies.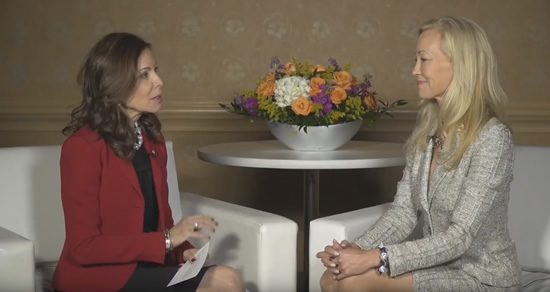 There is a version aimed at women available as well.
Upcoming Conference
25th World Congress on Controversies in Obstetrics, Gynecology & Infertility (COGI)
Vienna, Austria
November 30 - December 2, 2017
www.cogi-congress.org