New survey puts spotlight on significant impact of menopause despite recent guideline
Findings presented at the British Menopause Society's annual conference show only half of women surveyed in Great Britain (who are currently experiencing or who have experienced menopausal symptoms within the past ten years) consult a healthcare professional for any of their menopause symptoms
A new survey conducted by Ipsos MORI on behalf of the British Menopause Society (BMS) has revealed that one in two women in Great Britain (aged 45-65 who are currently experiencing or who have experienced menopausal symptoms within the past ten years) go through the menopause without consulting a healthcare professional.1 This is despite women surveyed reporting on average seven different symptoms and 42% saying their symptoms were worse or much worse than expected.[1]
More than 200 leading women's health experts from around the world gathered at the BMS's annual conference to discuss recent advances in menopause research, and the impact of the National Institute of Health and Care Excellence (NICE) guideline on addressing the often overlooked needs of women experiencing the menopause.
It was hoped that the recently published NICE guideline on the diagnosis and management of the menopause would encourage more women to seek help and access to safe and effective treatments. Worryingly however, only 3% of those surveyed had heard of the guideline.[1]
The online survey found that:
Among those who have not consulted a healthcare professional for their menopause symptoms, more than a third (35%) believe it is something they should have to put up with [1]
The majority of women surveyed experienced hot flushes (79%) or night sweats (70%), but many experienced symptoms they did not expect1

22% of women surveyed experienced unexpected sleeping problems / insomnia, 20% difficulty with memory / concentration and 18% joint aches1
It is also interesting to note that 35% said they experienced vaginal dryness, with 18% of those experiencing this symptom saying it was unexpected1

*For a full list of symptoms experienced, please see footnote below.
The impact of these symptoms has been widespread with half of women surveyed saying their menopause symptoms have affected their home life, their social life (36%), and work life (36%) [1]

50% of women surveyed also reported that their sex life was affected, experiencing reduced libido (32%), reduced sex life (22%), painful or uncomfortable sex (16%) and 10% stopped having sex altogether. [1]
Dr Heather Currie, Chairman, British Menopause Society said:
"There is a common perception that the menopause is simply a few hot flushes lasting around two years, so the reality can come as quite a shock to many women. Women often feel powerless, because they believe there are limited treatment options and support available, and these fears and misconceptions have persisted from generation-to-generation.
"The publication of the NICE guideline represents a much needed first step towards ensuring excellent standards of care for the treatment of women experiencing the menopause. However, the survey demonstrates there is still extremely low awareness among women of the guideline and misconceptions around the menopause persist.
"We believe more needs to be done to educate women about the information and support available, which is why the British Menopause Society have developed some useful resources tailored for women to help them better understand their menopause symptoms and advice and treatments available."
In the UK, the average age for menopause is 51 and one in 100 women will experience menopause prematurely under the age of 40. [2] An estimated 1.5 million (80%) will experience some symptoms, which typically continue for around four years, but can last up to 12 years or more.[3]
Dr David Richmond, President of the Royal College of Obstetricians and Gynaecologists (RCOG) commented:
"For some women, menopausal symptoms can be extremely debilitating and dramatically impact upon their quality of life. This survey paints a concerning picture, given that many women are suffering from menopausal symptoms in silence – this should never be the case.
"Every woman's experience of the menopause is different and we encourage women to talk openly to their healthcare professionals, employers, friends and families about the menopause. There is help and support available and the recently published NICE guideline provides both women and healthcare professionals with clear guidance and information about the menopause and how best to manage symptoms."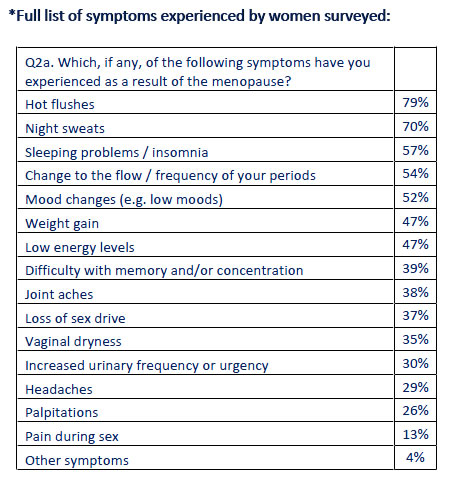 References
The British Menopause Society: Data on file. Women's experience of menopause in Great Britain survey, 2016.
Women's Health Concern. The Menopause Factsheet. Available online: https://www.womens-health-concern.org/help-and-advice/factsheets/menopause/ Last accessed May 2016.
National Institute of Health and Care Excellence (NICE). Press release: NICE issues first guideline on menopause to stop women suffering in silence. Available online: https://www.nice.org.uk/news/press-and-media/nice-issues-first-guideline-on-menopause-to-stop-women-suffering-in-silence Last accessed May 2016.
Content updated 19 May 2016