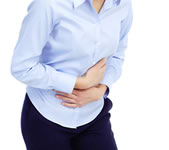 Each year more than 1200 Australian women are diagnosed with ovarian cancer. The main risk factor for ovarian cancer is getting older. Over 80 per cent of women diagnosed are over 50 years of age but ovarian cancer can occur at any age.
Ovarian cancer can be difficult to diagnose at an early stage, largely because symptoms can be vague and similar to those of other common illnesses.
But most women diagnosed with the disease experience symptoms, it is simply that they do not link them to cancer.