18th World Congress on Menopause | Abstract submission deadline extended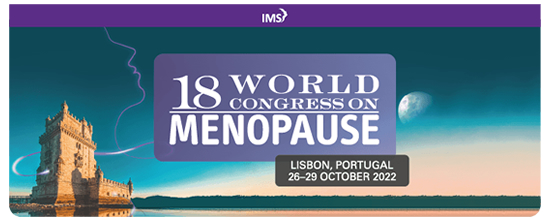 Lisbon, Portugal
26-29 October 2022
Due to the numerous requests for extension and the large volume of abstract submissions received, we are happy to announce that the deadline for Abstracts submission has been extended.
Now you have the chance to submit your abstract for the 18th World Congress on Menopause until:
- Monday 4th July for Oral Presentation
- Monday 18th July for Poster Presentation
Do not leave it to the last minute! 
CALL FOR ABSTRACTS
Present your scientific work in front of experts coming from all over the world.
Submit your abstract for the Oral Presentation Session or for the Poster Session.
Visit the website to learn more about the congress topics and the abstract submission guidelines.
SUBMIT 
THE GREENBLATT AWARD

The Greenblatt Award will be awarded to 1-2 investigators who present the best oral presentations in menopause-related basic or clinical science in a special Award session.
Up to 2 awards each of 2500 GBP will be given for the best papers presented in either basic or clinical menopause-related research.
---
17th World Congress on Menopause
This congress was to have been hosted by the Internationa Menopause Society (IMS) with the support of the Australasian Menopause Society (AMS), in lieu of the Annual AMS Congress. Unfortunately due to the exceptional circumstances surrounding the COVID-19 Pandemic the congress was cancelled.
The next World Congress on the Menopause will be in Lisbon on October 26–29, 2022, with Dr Pauline Maki chairing the Scientific Program Committee.
Prof Susan Davis has announced that the 2024 World Congress on the Menopause will now be held in Melbourne on October 18–22.

Content updated June 2022