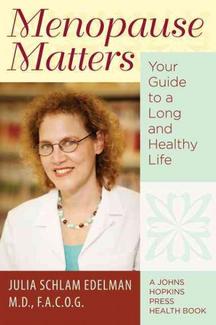 Dr Julia Schlam Edelman MD FACOG
"Menopause Matters" by Dr. Julia Edelman, an American gynaecologist, is a comprehensive, scientifically based and well written guide providing information and practical advice to the woman approaching or arrived at the menopausal years. Topics addressed include lifestyle issues, menopausal symptoms, contraception for the perimenopausal women, psychological issues, heart and bone health, consideration of HRT, sexual function and more.The use of illustrative case stories, ability to convey complicated scientific findings in an accurate but simplified manner and the provision of lists for further reference at the end of each chapter enhances the consumer friendly nature of this book. I particularly like the emphasis on preventative health measures for midlife women and the "team approach" recommended for a woman and her doctor.
This book is designed for the American audience which causes difficulties and possibly some confusion for the non-USA reader in regard to use of non-metric measurements and units (for example weight and cholesterol levels), reference to certain medications (micronised progesterone is not available in Australia but tibolone is) and the difference in healthcare organisation. However, the non-USA reader will still find much to inform and consider.
Dr Julia Schlam Edelman MD FACOG, 2010, Johns Hopkins Press Health Book, Johns Hopkins University Press. www.press.jhu.edu
Reviewed by Dr Amanda Vincent MBBS, B Med Sci, PhD, FRACP
Consultant Endocrinologist, Menopause Unit, Southern Health, Victoria, Australia
Chair of the Australasian Menopause Society Education Sub-committee.