Congress catch up
Registrations are still open for the 24th AMS Congress where you can catch up on the Congress presentation recordings.
---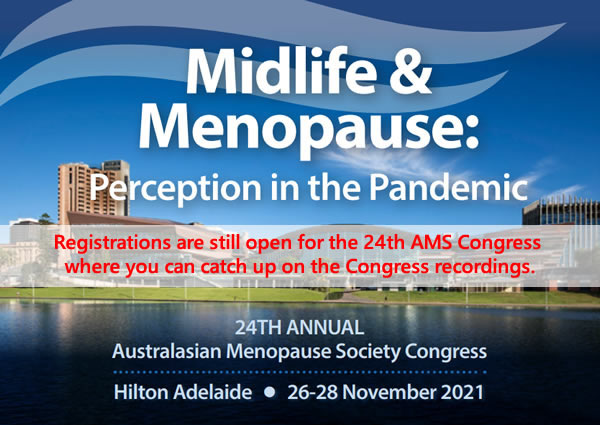 ---
Join us 26-28 November 2021 in Adelaide as we share our experiences and knowledge gained as we have all adapted in our approaches to Midlife and Menopause issues across the pandemic.
This year's conference offers you a stimulating scientific program designed to inform while encouraging time for reflection and renewal. The conference venue is adjacent to a vibrant market and restaurant precinct, with the coast a brief tram ride away.
Our national and international speakers will explore the latest research across a range of topics including ageing and its resistance and gender differences affecting metabolic, immune and cardiac function. We will look at breast cancer and sleep. Telehealth, conflict resolution and time management are topics relevant for all of us.
Our clinically focused and always popular Pre-Congress Menopause Essentials Update will again cover all aspects of menopause management.
So join us, renew old acquaintances and make new connections in Adelaide in November 2021.
Dr Meredith Frearson
Chair, Local Organising Committee
AMS Congress website
Registration
www.amscongress.com.au/2021-registration
Deadline for Abstracts, Scholarships and Travel Grants Extended until 24 September!
Abstracts
Submit your abstract to present at the 24th AMS Congress now! As this will be a hybrid event, you will have the option of presenting either onsite or online. Abstracts can be for a 10 minute presentation, 2 minute rapid fire or poster presentation. Abstracts may be submitted on any topic relevant to the menopause or midlife women's health. Previously published abstracts will not be accepted. All abstracts submitted by AMS members will be considered for the Barbara Gross Award, Jean Hailes Memorial Prize and Vivien Wallace Award. For more details, guidelines and how to submit your abstract please go to http://www.amscongress.com.au/2021-abstracts
Scholarships
The AMS will fund two (2) scholarships for medical students, doctors in training or PhD candidates who have submitted an abstract to attend the 24th AMS Congress in Adelaide. The scholarship includes Congress registration and AMS membership for one year. For more details and how to apply, please go to http://www.amscongress.com.au/2021-abstracts
Travel Grants
The AMS will fund two (2) travel grants of $1,000 for AMS member delegates who live and work in a rural or remote region. For more details and how to apply, please go to http://www.amscongress.com.au/2021-abstracts