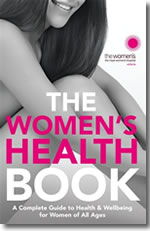 A complete guide to health and wellbeing for women of all ages.
The Royal Women's Hospital, Victoria
A William Heinemann book. Published by Random House, Australia 2014 800 pages.
The Royal Women's Hospital in Melbourne is the largest health facility in Australia specializing in women's health. The staff at "The Women's", many of whom have international reputations for their contribution to research and clinical practice, has put together a comprehensive volume of health advice for women. This guide is very accessible and well referenced and covers women's health issues through all life stages. The aim of the writing group is to encourage women to share knowledge about health, educate others about important issues such as sexual violence and to advocate for gender equality in health.
The book is separated into four main areas dealing with adolescent health, young women, the midlife years and later years. There is a strong focus on healthy lifestyle and taking control of your health and, throughout the book, bullet points highlight the key issues. It discusses health screening and provides a clear table of what should be done and when. In doing so, it follows governmental screening advice and manages to steer clear of any controversy, such as that currently surrounding mammography.
A range of topical issues are discussed including body image, mental health, sexuality, contraception, pregnancy, abortion, menopause, use of complementary therapies, gynecological cancer and being a cancer carer.
The book has a chapter on "Getting the most out of your health consultation" which provides clear information and advice to the woman on the sort of checklist they should use before a consultation. It empowers women to ask the right questions and become a partner in their healthcare decisions. There are some excellent diagrams illustrating the basics of the menstrual cycle and female genitalia. The "Resources" section at the end of the book is a highlight with its comprehensive listing of medical, community and educational services. Many of these services have an online presence, which allows doctors and women outside Australia to access the information. Several of the websites, such as the Melbourne-based Jean Hailes organization and the Australasian Menopause Society, provide excellent resources for women and their doctors.
The book is very much focused on the Australian environment but the information is universal. With the increasing impact of the Internet and self-proclaimed gurus on our patients' lives and the variable quality of the information they provide, this book provides a much more accurate, evidence-based approach. The level of the text would suit someone with a good knowledge of English. It is the kind of book that women should have as their healthcare guide and I would encourage GPs, women's health specialists and healthcare providers with an interest in women's health to use this book as a clear and concise source of information.
Reviewed by:
Dr Anna Fenton, AMS President and Endocrinologist, Christchurch, New Zealand