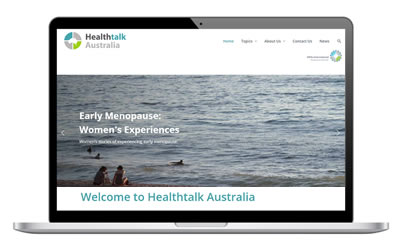 Two comprehensive new Australian digital resources have been developed for women with early menopause / primary ovarian insufficiency (POI) and health professionals caring for women with EM / POI.
Located on the Healthtalk Australia website, the resources feature women's and health professionals' experiences and perspectives (via short audio and video clips), a Question Prompt List for women with weblinks to information, diagnosis and management (treatment) algorithms for health professionals, and information and resource pages including a list of health services across Australia for women with EM / POI. The resources are designed to support, inform and help with diagnosis, management and improved communication between women and their HPs for better health outcomes.
The online resources are the result of a NHMRC Partnership Project involving academic endocrinologists and obstetrician-gynaecologists at the Monash Centre for Health Research and Implementation and the University of Melbourne and health sociologists at RMIT University. Partner organisations included AMS, National Breast Cancer Foundation, Healthdirect Australia, Women's Health Victoria, Breast Cancer Network Australia, Monash Health, Endocrine Society of Australia, and Healthtalk Australia.
Content created July 2020