Kathleen Riach, Monash University and Gavin Jack, Monash University
For many, menopause conjures up feelings of embarrassment, hot flushes, mood swings and sleep disturbance. It doesn't usually conjure up thoughts about the workplace.
Yet menopause at work is fast becoming a target of government and organisational concern.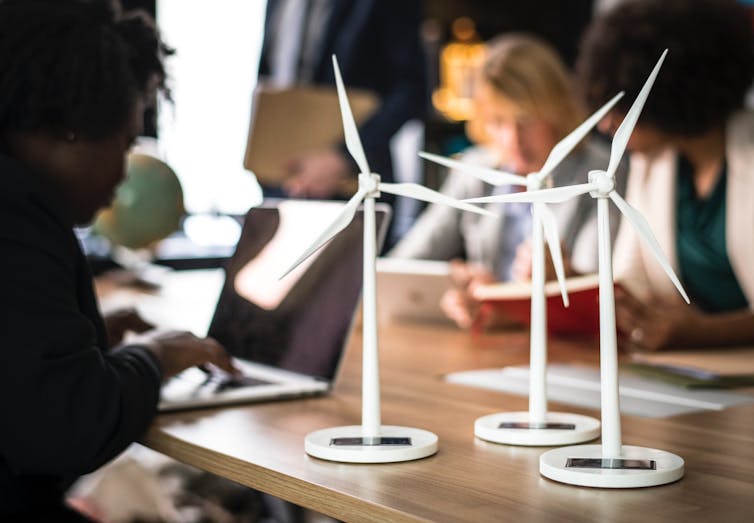 ---
Read more: Explainer: why do women go through menopause?
---
Some employers think menopause hurts productivity and is therefore a reason to avoid employing older women. But not every woman experiences menopausal transition the same way and it is wrong to assume it will always have a negative impact on work.
How work cultures deal with it plays a big part in how it affects both the individual and the organisation.
Cultural influences
Since 2013, we have undertaken surveys, interviews, focus groups and discussions with line managers in organisations about women, work and the menopause.
We have found the frequency and severity of menopausal symptoms affect how women feel engaged, satisfied by and committed to their work.
Features of the workplace culture and managerial styles may accentuate or mitigate these. For example, stressful work environments can exacerbate menopausal symptoms. Women who enjoy higher levels of support, on the other hand, report lower levels of menopausal symptoms.
It is important to remember that for some women menopause will present significant and long-term health episodes and may be covered under disability discrimination employment laws.
Respondents also stressed that menopause is part of a broader "time of life" when many women feel energised, more free from caring responsibilities and ready to go in terms of their career.
Women entering their fifties reported higher levels of mental health. This is significant considering the mental health epidemic affecting today's organisations.
Unfortunately, older women are often invisible, overlooked or subject to "gendered ageism" – the intersection of sexist and ageist stereotypes or attitudes.
---
Read more: A silent career killer – here's what workplaces can do about menopause
---
Simply put, even though these women might have the skills and capacities that workplaces need, they are not thought of as candidates for leadership roles.
Practical steps
We suggest there are a number of practical steps employers can take to create menopause-friendly workplaces.
Fans and easy access to temperature control were a common recommendation from our research. Women also appreciated the ability to work flexibly or from home during extreme weather or times when they were experiencing symptoms such as excessive bleeding.
Information about menopause – for both men and women – should be part of organisational health and wellness agendas. For time-poor employees, the workplace is an important place to access health knowledge and resources. Organisations should connect with important evidence-based advice, such as from the Australasian Menopause Society or Jean Hailes.
---
Read more: A shift in social attitudes can make menopause a positive experience
---
Managerial systems should put menopause on the workplace agenda rather than considering it only when it becomes an "issue" or "problem". Including menopause in occupational health and safety and human resource policies can also challenge hidden biases.
Finally, line management training is vital. All too often how menopause is dealt with in the workplace comes down to a supervisor's personal experience and understanding. When managerial responses remain ad hoc and unpredictable, it is not surprising that 60% of women feel unable to discuss their menopausal symptoms with their line manager.
Don't manage menopause
These steps are not just about alleviating symptoms. They are about avoiding signalling that women of a certain age are an inconvenience or less valued as employees.
So want to know the best way to support menopause in the workplace?
Provide ways to start the conversation in a positive way.

Encourage open and honest communication that does not automatically lead to discussion of performance.

Think about proactive practical steps that can accommodate symptoms.
It is about enabling a positive and productive work environment for those going through menopause, not "managing" menopause and its symptoms as a problem.
Experience and potential
Overwhelmingly we came away from talking to respondents with the feeling they were highly resilient. They spoke of ways to counter perceived forgetfulness or the effects of sleep deprivation they thought might be related to their menopause.
They also had a lifetime of experiences and resources to draw on in terms of proactively and creatively negotiating the multiple demands of life and work.
Women do not want workplaces to manage their menopause. What they want is an enabling environment that supports them through the menopausal transition. Part of this is recognising older women as a valuable cohort of the workforce who are full of potential.

Kathleen Riach, Associate Professor in Management, Monash University and Gavin Jack, Professor, Monash University
This article is republished from The Conversation under a Creative Commons license. Read the original article.
Content created October 2018