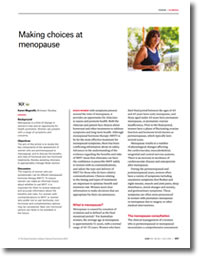 This article outlines the key components of assessing perimenopausal or menopausal women and discusses the benefits and risks of hormonal and non-hormonal treatments.
Key points:
Menopause is a time of change for women and provides an opportunity for health assessment and promotion.
MHT is the most effective treatment for symptom relief and can be offered to most women.
Topical vaginal oestrogen treatment is effective in relieving urogenital symptoms.
For women with contraindications to MHT or those who prefer not to take hormones, non-hormonal options are available, and new non-hormonal options are currently under investigation.
See online at Making choices at menopause
Authors:
AMS Board Member Dr Karen Magraith BMBS, FRACGP and AMS Past-President Professor Bronwyn Stuckey BA, MBBS, FRACP
Content created October 2019