19th AMS Congress Prize Winners
Download PDF version:

19th AMS Congress Prize Winners243.72 KB
Winner of the Barbara Gross Award
Dr Carolyn Ee
Acupuncture for menopausal hot flushes: an individually randomised sham-controlled trial
Dr Carolyn Ee, Department of General Practice, University of Melbourne
Prof Charlie Xue, School of Health Sciences, RMIT University
Dr Patty Chondros, Department of General Practice, University of Melbourne
Prof Stephen P Myers, NatMed-Research Unit, Southern Cross University
Assoc Prof Simon D French, School of Rehabilitation Therapy, Queen's University
Prof Helena Teede, Diabetes Unit, Monash Health
Assoc Prof Marie Pirotta, Department of General Practice, University of Melbourne
Background: Menopausal hot flushes affect up to 75% of women and pose a significant health and financial burden. Acupuncture is a safe treatment with conflicting evidence for efficacy as a hot flush treatment.
Aims: To assess the efficacy of acupuncture against sham acupuncture for menopausal hot flushes.
Methods: We included Australian women aged over 40 in the late menopausal transition or postmenopause with at least seven moderate hot flushes daily, meeting criteria for the Chinese Medicine diagnosis of Kidney Yin deficiency. Exclusion criteria included breast cancer and hormone replacement therapy. Women were randomised, stratified by acupuncturist, to ten treatments over eight weeks of standardised Chinese medicine needle acupuncture designed to treat Kidney Yin deficiency, or non-insertive sham acupuncture. Participants, outcome assessors and investigators were blinded to treatment allocation. Primary outcome was the seven day Hot Flush Diary score at end-of-treatment (EOT). Secondary outcomes included quality-oflife, anxiety, depression, credibility, and expectancy. Participants were assessed at four weeks, end-of-treatment, then three and six months post-treatment. Analysis was by intention to treat using mixed effects modelling.
Results: 327 women were randomised to real (n=163) or sham acupuncture (n=164). At EOT, 16% and 13% were lost to follow up. There was no evidence of a between-group difference in hot flush scores at end-oftreatment (mean difference 0·33; 95% CI -1·87 to 2·52; p=0·77) or for secondary outcomes, and no serious adverse events.
Conclusion: Chinese medicine acupuncture did not exert additional benefit over sham treatment for women with moderately-severe menopausal hot flushes.
Winner of the AMS Scientific Award
Dr Pragya Gartoulla
For her paper: "Moderate-severe vasomotor symptoms are associated with lowered psychological general well-being in women at midlife"
Pragya Gartoulla, Robin J. Bell, Roisin Worsley and Susan R. Davis.
Women's Health Research Program Department of Epidemiology and Preventive Medicine Monash University.
Abstract
Aim: To investigate the association between moderate-severe vasomotor symptoms (VMS) and psychological general well-being in women at midlife, taking into account sociodemographic and lifestyle factors.
Methods: We recruited 2020 Australian women, aged 40-65 years, to a cross-sectional survey between October 2013 and March 2014. Well-being was assessed by the Psychological and General Well-being Questionnaire (PGWB), with a higher score indicating greater well-being, and VMS by the Menopause-specific Quality of Life Questionnaire. Linear regression analysis was performed to assess the direction and strength of associations.
Results: 72.83% (95% CI 70.60 to 75.07) of women were peri/postmenopausal and 11.38% (95% CI 9.67 to 13.09) reported moderatesevere VMS. Moderate-severe VMS had a strong negative association with the total PGWB score ( = -8.17, 95% CI -10.90 to -5.45). The sociodemographic factors associated with a lower PGWB score included being un-partnered ( = -2.80, 95% CI -4.74 to -0.86), obese ( = -5.46, 95% CI -7.24 to -3.68) and a smoker ( = -3.47, 95% CI -6.10 to -0.84). Older age ( = 0.29, 95% CI 0.06 to 0.42) and participation in paid and/or volunteer work ( = 2.72, 95% CI 0.61 to 4.82) were positively associated with the total PGWB score. For those with insecure housing, being a carer was associated with better well-being.
Conclusions: Moderate-severe VMS are significantly and independently negatively associated with psychological general well-being in women at midlife. This consequence of VMS needs to be considered in the decision making about the treatment of moderate-severe VMS.
Winner of the Jean Hailes Memorial Prize
Dr Lydia Brown
Self Compassion: A Resilience Factor during the Menopause Transition
Authors: Lydia Brown (a); Christina Bryant (a, c); Valerie Brown (a); Bei Bei (b, d); Fiona Judd(c, d)
a. Melbourne School of Psychological Sciences, University of Melbourne
b. Centre for Women's Mental Health, Royal Women's Hospital
c. Department of Psychiatry, University of Melbourne
d. School of Psychological Sciences, Monash University
Abstract
There is a wide variation in women's experience of menopause, whereby some women find that menopause impacts their well-being more than others. This two-part study aimed to investigate the roles of selfcompassion (studies 1 and 2) and beliefs about the menopause (study 2) in predicting daily life functioning, depressive symptoms and well-being in a community sample of 206 midlife women currently reporting menopausal hot flushes and night sweats (HFNS). In a path analytic model, Study 1found that self-compassion predicted low hot flush daily interference ratings ( = -.37), and also moderated the relationship between HFNS frequency and daily interference ( = -.21), such that women high on self-compassion were less impaired by hot flushes, and subsequently symptoms of depression. Study 2 extended these findings to demonstrate that selfcompassion, women's beliefs about control over menopause and HFNS interference ratings predicted high hedonic and eudaimonic wellbeing, whereas biological aspects of menopause including menopausal stage and HFNS frequency did not. Taken together, these studies demonstrate psychological aspects of the menopause including menopause beliefs and self-compassion help explain individual differences in well-being in the context of menopause. Clinical care that fosters a woman's sense of control over symptoms, together with advice on self-compassion could be a useful strategy to promote functioning and well-being across the menopause transition.
---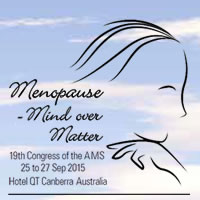 AMS Congress
Friday 25 to Sunday 27 September, 2015
Hotel QT Canberra, Australia
Differing opinions have been published regarding the link between hormone levels and mood disorders.
At the 2015 19th AMS Congress in Canberra, the focus was on "Menopause – Mind over Matter" with topics ranging from how memory works and normal age-related cognitive decline, why women are more at risk of dementia and reducing the risk, HRT and its links with cognition, also androgens and cognitive function. Other topics will pick up on the latest in managing menopause and more including strategies to improve well-being.
The Congress in Canberra coincided with school holidays and the stunning Floriade the biggest celebration of spring in Australia each year.
Dr Linda Welberry
Congress Chair
---
Plenaries, Debates, Free Papers and Discussion on the following topics:
Cognitive function
Memory - how it works
How do we detect mild cognitive impairment?
Mental health changeas over the menopause transition
Dementia – why women are more at risk
Ovarian/gynaecological cancer
Genetic tests – who to screen Bone management after diagnosis of ovarian/gynae cancer
Urogenital problems
Menopause – the latest
Invited Speakers
An outstanding line-up of local and internationally recognised experts has been invited to speak at the AMS 2015 Congress. Confirmed speakers include:
Rod Baber
Deborah Bateson
Robin Bell
John Boyle
Sue Davis
Sonia Davison

Jane Elliot
Martha Hickey
Melita Kenealy
Judy Kirk
Michelle Mielke
Gita Mishra

Ann Olsson
Bronwyn Stuckey
Anne Unkenstein
Amanda Vincent
Sue Wigg
Alessandro Zagami
Congress Program

AMS_Congress_2015_Scientific_Program857.24 KB
2015 Congress and AMS Awards
Abstracts chosen for presentation will also be considered for 2015 Congress Awards which will be announced during the Congress function on Saturday 26 September.
AMS Congress Awards – Free Presentations
Free papers may also be entered for consideration for an AMS Congress Award. Check the following details and also note the call for the AMS Scientific Prize for 2015.
The Jean Hailes Memorial Prize is presented to the best free communication or poster presentation by a current AMS member who is still within 10 years of having completed their tertiary degree. Presenter to indicate eligibility for this prize when submitting abstract. The winner will receive a certificate of honour and AUD$500.
The Barbara Gross Award is presented for the best overall free communication or poster by any delegate. All free communications and posters presented at the Congress will be entered for this award. The winner will receive a certificate of honour and AUD$1,000.
The Vivien Wallace Poster Prize is given to encourage delegates working in any area of medicine to submit a poster for inclusion in the 2013 Congress program. This is an annual Award to the value of AUD$250.•
Judges for the Congress Awards are appointed by the Chair of the Scientific Program Committee and there are 2 judges per room, with a prescribed scoring system.
AMS Society Awards
The following AMS Society Awards will also be announced at the Canberra Congress.
The Australasian Menopause Society Award
This prestigious Award is given by the Australasian Menopause Society in recognition of a distinguished person in the field of menopause and women's midlife health, who has given much of their life to making a significant contribution to this field.
The Award is determined every two years by the AMS Board of Directors, and the presentation includes a certificate, an honorarium of AUD$1000 and a memento acknowledging the occasion.
The Australasian Menopause Society Scientific Award is given to the most meritorious contribution to the field of menopause by an Australian or New Zealand investigator. This is an annual award based on a published/accepted paper in the past 12 months accepted and in press by 30 June. The paper should be on a specific subject related to menopause. The winner will receive a certificate of honour and AUD$500.00
Judges for the AMS Scientific Award are appointed by the Chair of the AMS Education Committee.
Content updated 31 December 2015