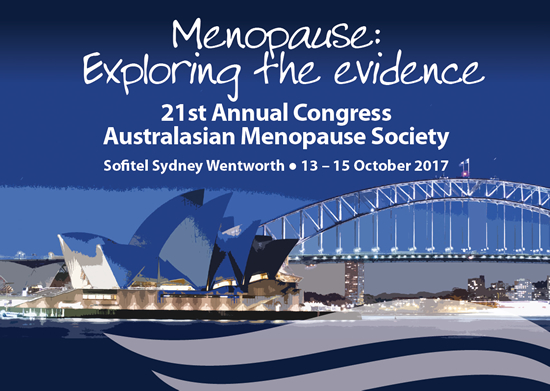 Come and help us celebrate the 21st anniversary of the Australasian Menopause Society, in the vibrant heart of Sydney. Mark the dates: 13-15 October 2017.
The 2017 Congress at Sofitel Sydney Wentworth is designed to cut through the myths, prejudices and misconceptions surrounding menopause in favour of a rigorous, evidence-based approach to its management.
From Helsinki, Tomi Mikkola will present new evidence about cardiovascular risks associated with hormone therapy, as well as some exciting data on pelvic floor disorders. The 21st anniversary Congress will bring you right up to date, boosting your confidence in the diagnosis and treatment of disorders associated with menopause and ageing.
You know about the sparkling harbour, the world-class beaches, the iconic Opera House and the rich diversity of its restaurant and entertainment scene. Sydney offers as much stimulation for the visitor as the Congress will offer your medical mind.
Sheila O'Neill
Chair, Local Organising Committee
Registration
Registration for AMS 2017 is now open. For more information, please visit the conference website .
Program
The preliminary program is available online, to view.
Abstract
Abstract submissions are now open.
Pre-Congress Program - Menopause Essentials Update
Friday 13 October 2017
0830 - 1200
Sofitel Sydney Wentworth
The AMS Board is pleased to continue this very popular Menopause Essentials Update series as part of the AMS Pre-Congress Meeting in Sydney.
The workshop is aimed at all GPs, specialists and allied health workers who are seeking a comprehensive update in the field of menopause.
Prof Rod Baber and Drs Jane Elliott, Sonia Davison and Anna Fenton will present on:
Menopause and how to approach it
How to prescribe MHT
Non-hormonal treatments for menopausal symptoms, and sexual dysfunction
Case studies
Members: $75
Non-members: $150
Content updated Ocober 2017