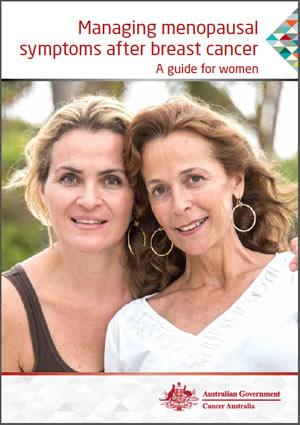 This booklet is designed to support women diagnosed and treated for breast cancer who may experience menopausal symptoms. Menopausal symptoms can be a side effect of some breast cancer treatments. Management of menopausal symptoms after treatment for breast cancer needs a different approach to that used by women who enter menopause naturally.
This booklet provides information about menopause and its symptoms. It describes some of the physical and emotional changes experienced by women with breast cancer and offers some practical suggestions for managing these changes.
This booklet is not a replacement for advice given by a health professional and it does not cover all options available. Only a health professional can help individualise your care.
Managing menopausal symptoms after breast cancer - a guide for women
Reference
Cancer Australia. Managing menopausal symptoms after breast cancer. Cancer Australia, Surry Hills, NSW, 2012.
Managing menopausal symptoms after breast cancer, can be downloaded or ordered from the Cancer Australia
website: canceraustralia.gov.au/resources
Content updated 14 December 2016