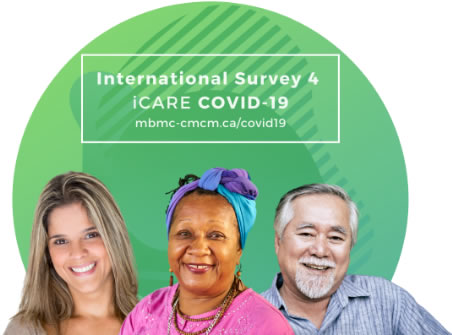 For the past few months, people have been feeling the impacts of COVID-19 on their daily lives.

Help us understand those impacts and make a real change by completing and sharing our iCARE survey in your networks.

Survey 4: mbmc-cmcm.ca/covid19

We are releasing monthly versions of the survey. We invite you to fill out each version as it becomes available and to share it in your networks, whether you have filled previous versions or this is your first participation. Each time you fill or share the survey, it will allow us to follow the evolution of COVID-19's effects on communities worldwide.

More than 60 000 people from 140 countries have completed the survey (available in multiple languages), and we are still going!



Preliminary results are now available at: mbmc-cmcm.ca/covid19/stats-wave1 (keep checking the website for results updates as they come in!). Thanks to your participation, we have learned what people think of government public health policies and COVID-19-related restrictions, and how people are coping with the pandemic.
If you have any questions about the study, please contact the team through the project email: This email address is being protected from spambots. You need JavaScript enabled to view it..

The iCARE study has been approved by the Research Ethics Committee of the CIUSSS-NIM (Centre intégré universitaire de santé et de services sociaux du Nord-de-l'Île-de-Montréal): approval # 2020-2099 / 03-25-2020
Content created July 2020