About the study
:
We are recruiting women across Australia who are under the age of 45 and are at high risk for ovarian cancer and planning a bilateral salpingo-oopherectamy (BSO) within the next 12 months, as well as women under the age of 45 who have undergone BSO in the past 12 months.
This project is conducted via videoconferencing (all online) and involves interviews to assess mood and cognition.
Lead researchers
Associate Professor Caroline Gurvich (Clinical Neuropsychologist, Monash University)
Associate Professor Amanda Vincent (Endocrinologist, Monash Health and Monash University)
Professor Martha Hickey (Professor of Obstetrics and Gynaecology, RWH and University of Melbourne).
Ethics Approval
This research has approval from ethics committee (Alfred Health Ethics Committee and Monash University ethics committee) and is funded by The Centre for Research Excellence in Women's Health in Reproductive Life (CRE WHiRL) and the Women's Health Research Translation Network (WHRTN).
Contact
Email: This email address is being protected from spambots. You need JavaScript enabled to view it.
Phone: 03 9076 5034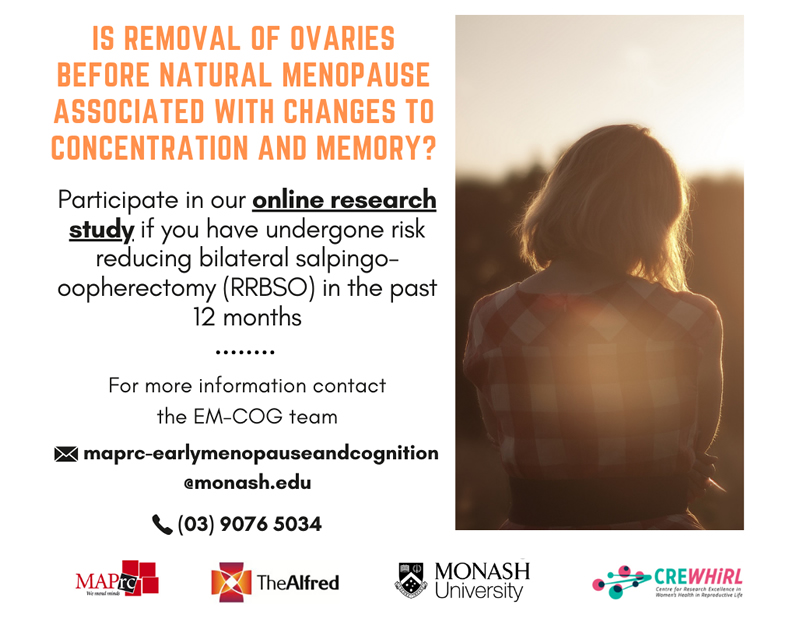 Content created July 2021