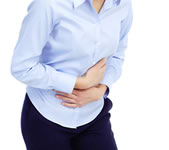 Each year more than 1200 Australian women are diagnosed with ovarian cancer. The main risk factor for ovarian cancer is getting older. Over 80 per cent of women diagnosed are over 50 years of age but ovarian cancer can occur at any age.
Ovarian cancer can be difficult to diagnose at an early stage, largely because symptoms can be vague and similar to those of other common illnesses.
But most women diagnosed with the disease experience symptoms, it is simply that they do not link them to cancer.
Awareness
Women who are diagnosed with ovarian cancer report four types of symptoms most frequently:
Abdominal or pelvic pain.
Increased abdominal size or persistent abdominal bloating.
Needing to urinate often or urgently.
Feeling full after eating a small amount.
If you have any of these symptoms, they are new for you and you have experienced them multiple times during a 4-week period, you should seek medical advice.
For more information
Awareness
http://www.ovariancancer.net.au/awareness/symptoms/
Early detection
http://www.cancer.org.au/about-cancer/early-detection/early-detection-factsheets/ovarian-cancer.html
General ovarian cancer information
http://canceraustralia.gov.au/affected-cancer/cancer-types/gynaecological-cancers/ovarian-cancer
Ovarian cancer: symptoms every woman needs to know
http://www.abc.net.au/health/thepulse/stories/2014/02/25/3951216.htm
Content updated February 2014